Looking to the future, the energy turnaround is also being extended to life on the water. A new generation of environmentally friendly water vehicles will soon conquer the oceans.
Our solar yachts are not only convincing due to their innovative energy supply, powerful electric propulsion and attractive design, but also due to the highest level of sailing comfort. All systems on board can use the sun as their primary energy source. The propulsion is not only environmentally friendly, but also barely audible. Our solar-powered ships are energy self-sufficient. However, if necessary, they can reach speeds of up to 18 kn. We set new standards in terms of user-friendliness, comfort and individual freedom. The SolarImpact Yacht is the best reason to move your life to the water.
"Technology is not the main focus: our customers expect a product that sets new standards in terms of user-friendliness, comfort and individual freedom. In this way, our yacht meets the increasing desire of people to permanently shift their centre of life to the water. Our concept takes an important step towards maritime e-mobility by avoiding noise and C02 emissions. We also see this as a special incentive for investors. Not only do they invest in a promising technology, they also pay into a fund that helps to preserve and rebuild the environment.
SolarImpact Yacht AG
The primary energy supply is provided by a photovoltaic system up to 280 m² in size.Solar modules convert the sunlight into electricity. These innovative, proven systems guarantee a reliable, self-sufficient power supply, even in remote regions. That is why we rely on established technology. The combination of solar and electric drive is characterized by a long service life. The modern drive systems and technical equipment guarantee special comfort and the required performance.
The SolarImpact Yacht conveys a feeling of indescribable lightness. It also offers technical extras and unique comfort for travel to the horizon and beyond.
The SolarImpact yacht can generate enough energy depending on the weather conditions to make your dream of self-sufficient, silent travel a reality. A real time energy monitoring system informs you at any time, any place about the historical, the current and the predicted energy consumption, so that you can plan your adventure safely and reach your destination.
Navigation with the Yachtview 360° system from a helicopter perspective
Yachtview 360° is the world's first camera system for ships from 15 to over 100 metres in length that provides an all-round view from a helicopter perspective. Even under the most difficult conditions when mooring, anchoring, manoeuvring in port or in narrow sea passages with heavy shipping traffic, skippers retain full control. Every millimeter of the boat's movement is tracked in real time to avoid collisions. Thanks to the good effect of the residual light amplification of the cameras, you have everything in view even in the evening and at night. Yachtview 360° marks the beginning of a new era of mooring!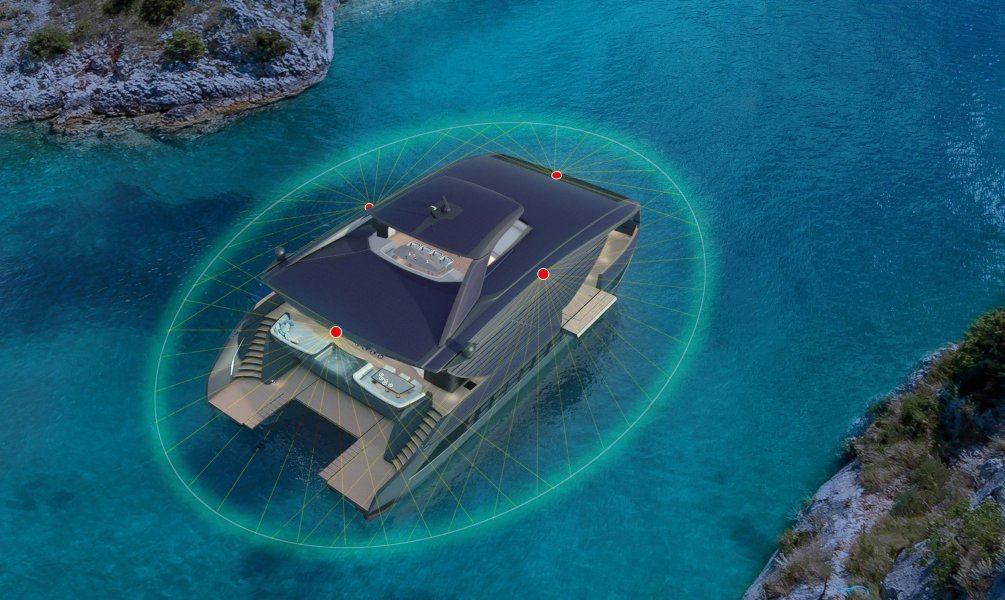 It takes brilliant minds to build a yacht that is so complex and full of advanced solutions. SolarImpact therefore relies on cooperation with renowned European technology partners.
Drive technology and energy supply were developed in close cooperation with Kreisel Electric GmbH & Co. KG. The Austrian company is known for the development of battery packs that are among the lightest and most efficient high-performance batteries in the world.
For solar energy generation SolarImpact cooperates with SOLBIAN, the specialist for flexible solar modules in the maritime sector. Here, the most efficient solar cells from the American supplier SunPower are used, which have also sailed around the globe in SOLBIAN modules.
DESIGN:
The design language of our yacht was created by the experienced yacht designer Roland Friedberger and stands for a clear, forward-looking design that fits seamlessly into the overall concept.
SolarImpact Yacht AG is an innovative company with a clear plan for the future. Our team of experienced engineers, designers, entrepreneurs and lateral thinkers has an eye for beautiful forms and a sense for modern technology. We specialise in the development and design of SWATH luxury yachts powered exclusively by solar energy.
During his many years of experience at sea, founder and visionary Werner Vögeli became increasingly interested in environmental protection. Thus the idea for a maritime alternative to fossil combustion engines was born. His own research showed that there were hardly any environmentally friendly and seaworthy yachts on the market - especially in the premium segment. This was followed by countless theoretical calculations, model tests in research institutes and self-propelled models at sea. After 5 years of research work, the project has now been realized.
The future is electric