On the sea, there are hardly any limits to your gaze and imagination. You feel and sense the vastness of the sea and get a whole new sense of exploring or rediscovering the true senses of life. This ship leads you to a new emotionality - exactly where the sea meets the sky. The SolarImpact is a yacht for people who want to travel further without sacrificing comfort, elegance and state-of-the-art technology, whose goal is the actual experience of the journey itself. The flybridge is an inviting outdoor living space. The view is fantastic and while you watch the sea, all your wishes can come true.
Inviting living areas, spacious cabins and the upscale interior design make a longer stay on board a pure pleasure. Your sundeck is like a private oasis with a unique atmosphere where you can relax in peace and quiet. Thanks to the elegant design, the yacht becomes your prestigious residence with a view of the sea. However, it impresses not only with its aesthetics and comfort, but also with its safety, long range and ideal hull shape. This makes long cruises a pleasure in all sea conditions - even for people with the highest demands.
The large windows offer incomparable views and let all areas shine in bright light. Whether you are alone or with selected guests in your home at sea - the interior design leaves nothing to be desired. The spacious living room features a sophisticated lighting concept and ultra-modern furnishings. Classic and stylish elegance that invites you to linger.
Clear lines and attractive shapes for the eye. Freedom, exclusivity and privacy for the soul. A concept that invigorates all the senses and provides relaxation at the same time. After an eventful day at sea, you can enjoy the pleasant tranquillity in the owner's suite or in the guest cabins. The equipment and design options of the interior, the light, climate and sound experience leave nothing to be desired and can be adapted to your ideas.
Looking to the future, the energy turnaround is also being extended to life on the water. A new generation of environmentally friendly watercraft will soon be conquering the world's oceans.Our solar yachts impress not only with their innovative energy supply, powerful electric propulsion and attractive design, but also with the highest level of sailing comfort. All systems on board can use the sun as a primary energy source. The drive is not only environmentally friendly, but also barely audible. Our solar-powered ships are self-sufficient in energy. However, if required, they can reach speeds of up to 18 kn. We set new standards in terms of user-friendliness, comfort and individual freedom. The SolarImpact yacht is the best reason to move your life to the water.The primary energy supply is provided by a photovoltaic system of up to 250 m². Solar modules convert sunlight into electricity. These innovative, proven systems guarantee a reliable, self-sufficient power supply, even in remote regions. That is why we rely on proven technology. The combination of solar and electric drive is characterised by a long service life. The modern drive systems and technical equipment guarantee special comfort and the required.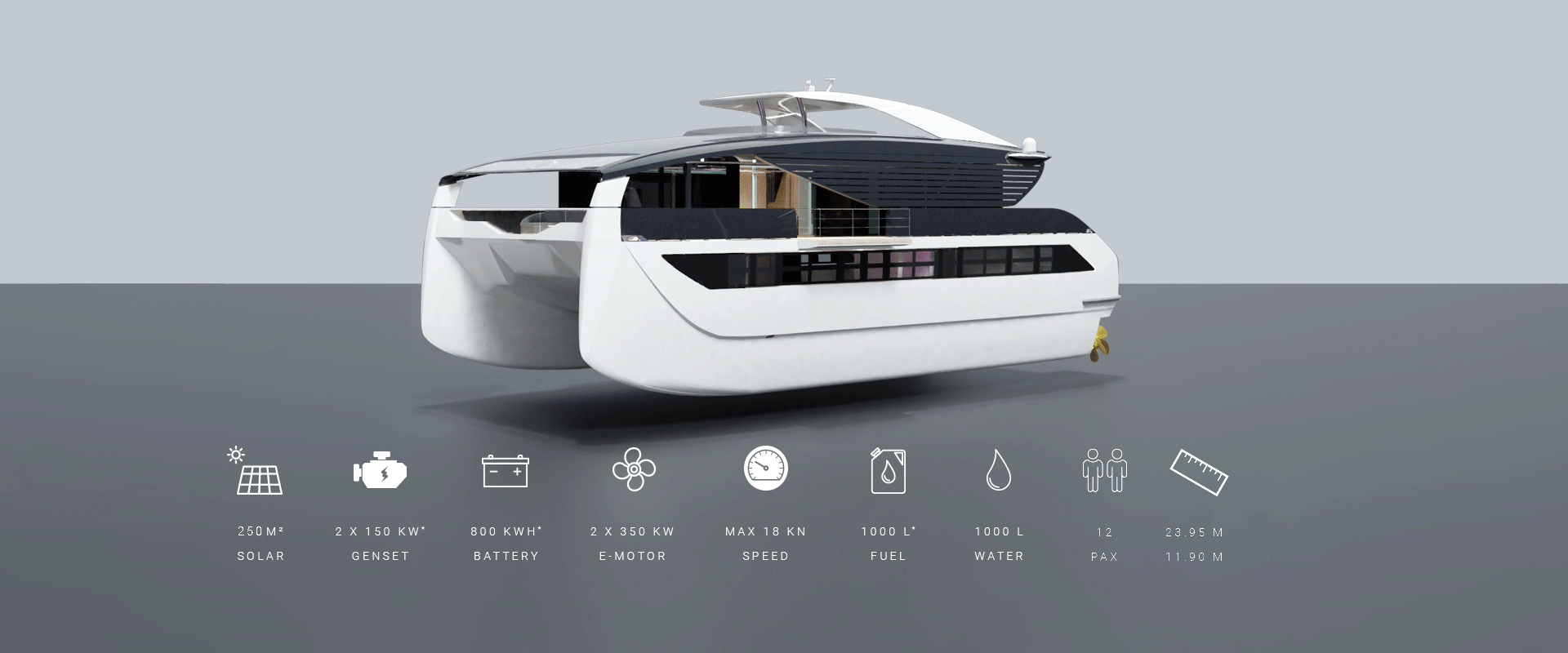 TECHNICAL DATA
Length overall
23,95 m
Beam max
11,90 m
Draft
1,75 m
Displacement
73 t
PROJECT
Material
Aluminium
Designer
Roland Friedberger
Accommodation
Cabins
1 Master

4 Double

1 Captain
2 Crew
PERFORMANCE
Engine output
up to 2 x 500 kW
Range
up to 800 kWh
Range Extender
2 x 150 kW
Speed max
up to 18 kn
Water capacity
1000 l