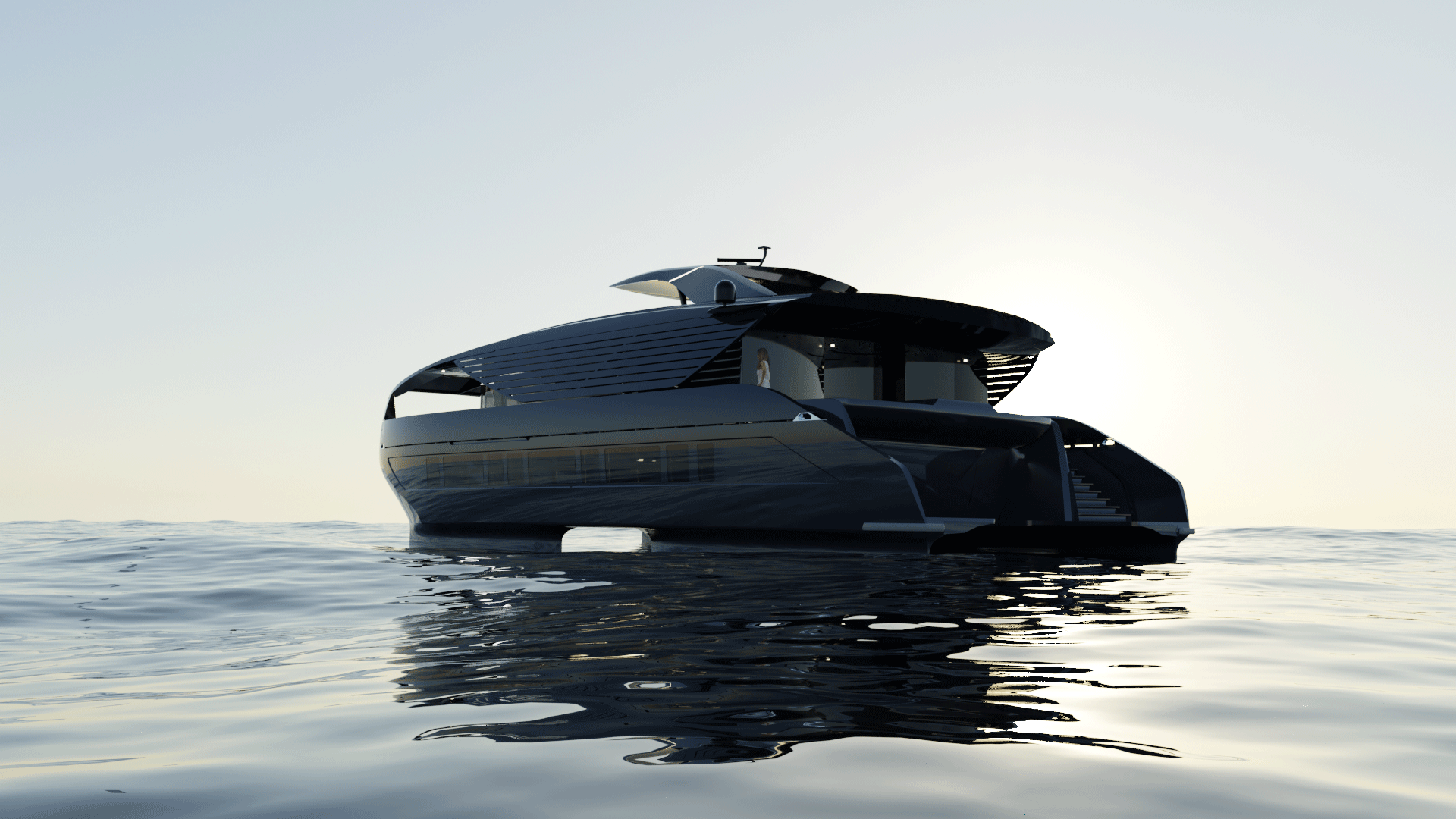 Looking to the future, the energy transition is also being extended to life on the water. A new generation of environmentally friendly watercraft will soon conquer the world's oceans.
Our solar yachts impress not only with their innovative energy supply, powerful electric drive and attractive design, but also with the highest level of sailing comfort. All systems on board can use the sun as their primary energy source. The drive is not only environmentally friendly, but also barely audible. Our solar-powered ships are self-sufficient in energy. However, if required, they can reach speeds of up to 18 kn. We set new standards in terms of user-friendliness, comfort and individual freedom. The SolarImpact Yacht is the best reason to move your life to the water.
SolarImpact Yacht AG
Tranquillity, comfort and elegance are your companions at sea
The large windows offer unparalleled views and incredible brightness in every area. For you, this means cruising without sacrificing the comfort and elegance of your own home. The interiors are designed to pamper you and your guests with maximum comfort. Light floods into the large, open-plan living room, which combines modern taste and classic elegance with a warm and cosy style.
Pamper yourself and experience a complete sense of well-being
Purity of lines, evolution of shapes, freedom, exclusivity and privacy. A concept that stimulates your well-being and all your senses and ensures relaxation. After an eventful day at sea, the owner's suites and the guest cabins offer maximum comfort and a pleasant calm. The interior presents only one variation. The furnishings are adapted according to the customer's wishes.
Cocooning stands for retreating into your own four walls. Whether alone, as a couple or in a merry circle - your floating home will be your cocoon of peace and security. Here you can switch off, relax and recharge your batteries. Spend pleasant hours with your family or invite your friends.
Your home at sea should be a place of shared experiences, but also offer opportunities for retreat. That's why we have set up various areas where you can enjoy your time on board according to your needs. If you are looking for relaxation, you can read, listen to music or simply let your mind wander. If you feel like company, cook with friends, have stimulating conversations or enjoy quality time with your family. Soon you will feel a sense of complete serenity spreading inside you.
SWATH is a hull technology developed as early as 1938, which was previously reserved for special ships. Two torpedo-shaped floats under the water surface generate the buoyancy of the ship. The resulting wave decoupling reduces the rolling and heeling behaviour of the yacht by up to 90 percent compared to conventional ships. The process for reducing vertical movements under sea conditions is similar to that of semi-submersible vessels (construction of oil platforms).
The wave motion, which is strongest at the water surface, decreases with increasing depth. The desired effect of this design is a significant minimization of heel and roll angles due to a much smaller waterline area (e.g. compared to a catamaran of the same size). The area that can be affected by a wave is therefore much smaller. Actively controlled fins also support the stability of the vessel. The stability of the floating object is therefore less affected by surface currents and waves than with classic construction methods. With the use of SWATH technology and the resulting much smoother sailing characteristics, you no longer have to worry about seasickness.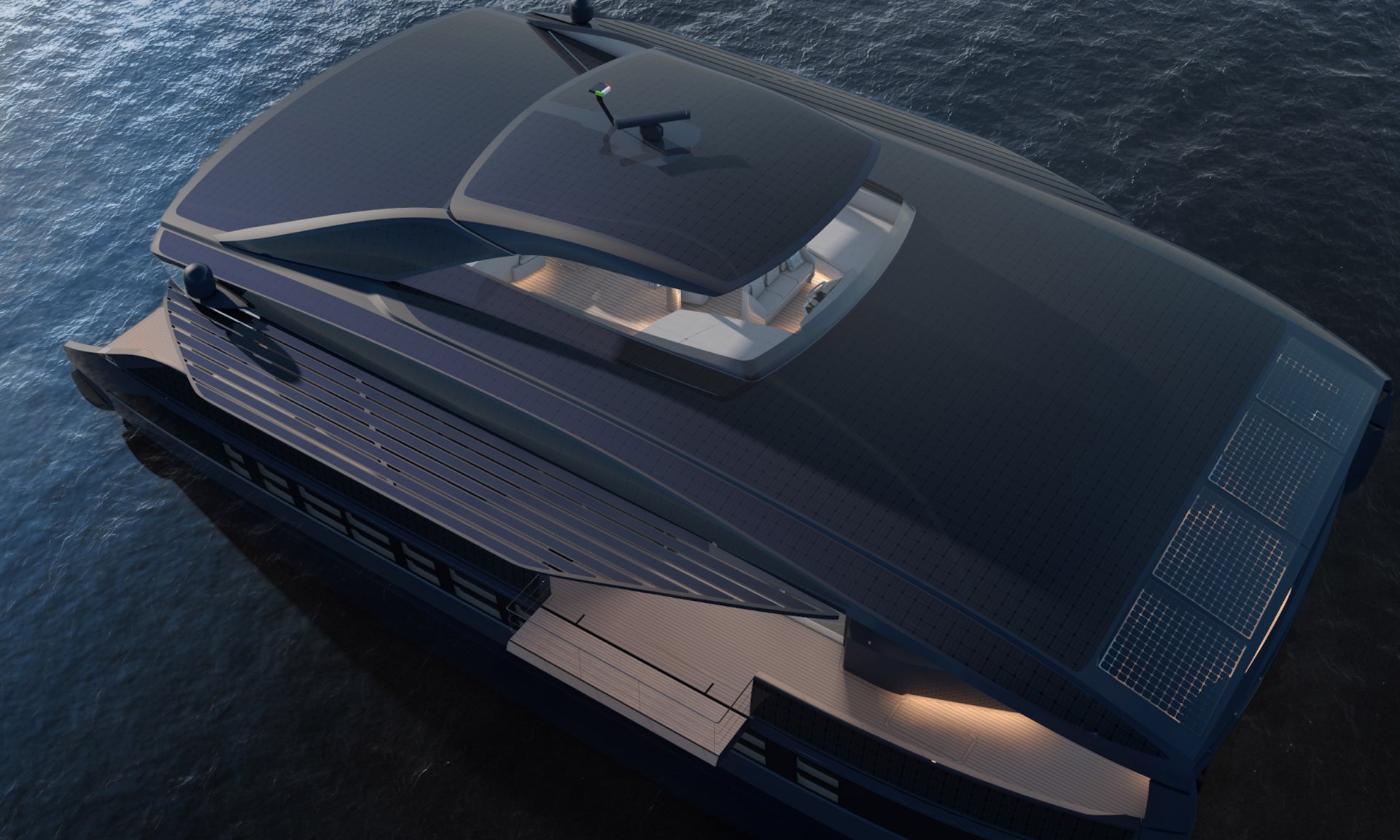 The primary energy supply is provided by a photovoltaic system of up to 250 m². Solar modules convert sunlight into electricity. These innovative, proven systems guarantee a reliable, self-sufficient power supply, even in remote regions. That is why we rely on proven technology. The combination of solar and electric drive is characterised by a long service life. The modern drive systems and technical equipment guarantee special comfort and the required performance.
The geographical location and the current weather conditions have a great influence on the energy demand. The number of daylight hours and the intensity of the sunlight are the most important factors. The yacht is equipped with a real-time energy monitoring system so that the owner can monitor and optimise energy consumption at all times. The monitoring system also analyses energy consumption in real time and gives you choices on how and when to use energy.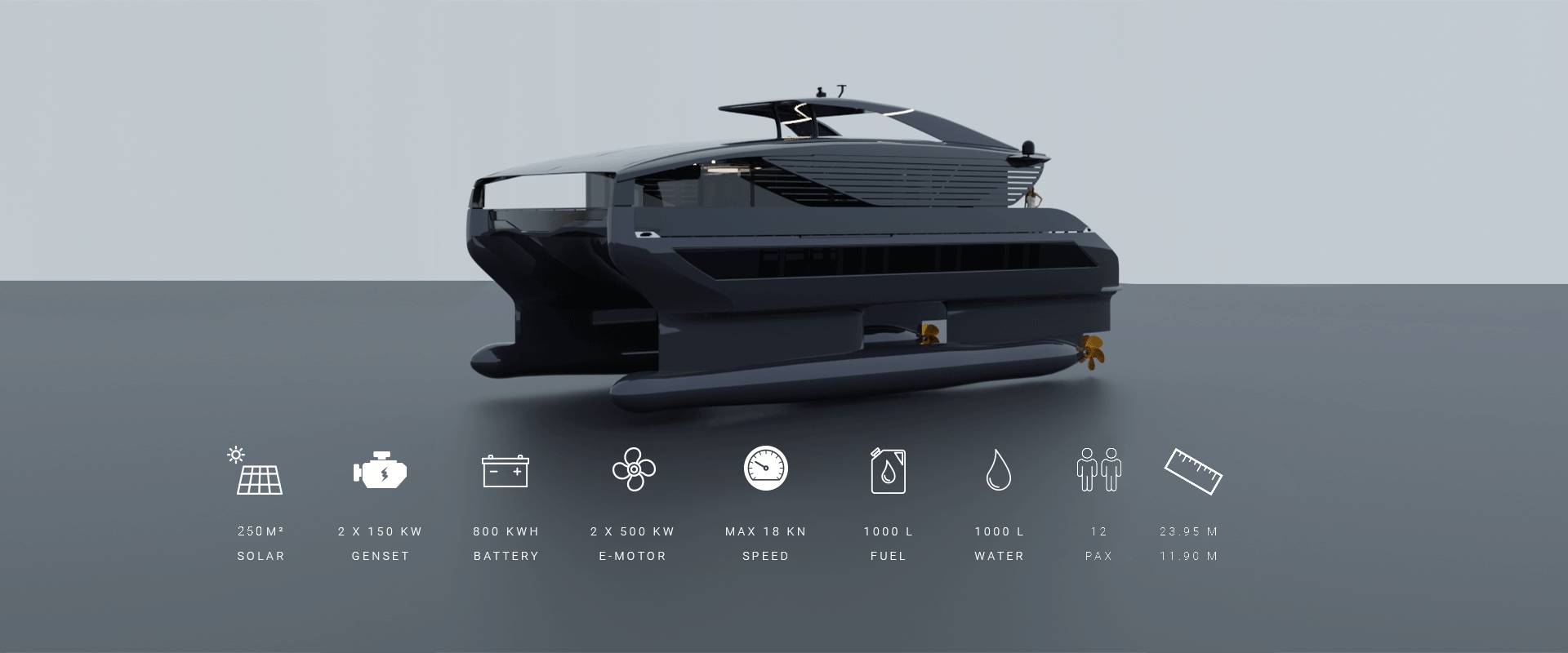 The SolarImpact yacht conveys a feeling of indescribable lightness. It also offers technical extras and unique comfort for journeys to the horizon and beyond.Depending on weather conditions, the SolarImpact yacht can generate enough energy to make your dream of self-sufficient, silent travel a reality. A real-time energy monitoring system keeps you informed of historical, current and predicted energy consumption anytime, anywhere, so you can safely plan your adventure and reach your destination.
TECHNICAL DATA
Length over all
23,95 m
Beam max
11,90 m
Draft
2,35 m
Displacement
93 t
PROJECT
Material
Aluminium
Designer
Roland Friedberger
Kiel
S.W.A.T.H.
PERFORMANCE
Engine output
2 x 500 kW
Battery
800 kWh
Range Extender
2 x 150 kW
speed max
bis zu 18 kn
Water capacity
1000 l