"A really good idea can be recognized by the fact that its realization seems impossible from the outset."
CITATE A. Einstein
---
The world is undergoing an unprecedented technological upheaval. Also and especially with regard to energy utilization and supply, we have a unique key role to play here. Environmentally neutral energy = progress.
Fossil energy, the fuel for the global economy and prosperity in the last 120 years, is being replaced at breathtaking speed. A very special challenge here is shipping. Traditional ships are technologically exhausted. A completely new way of thinking, free of old ballast, leads to a fundamentally different technology.
A new class of ship that combines unique comfort with high safety.
Primary energy source is the sun
Noiseless travel
Decoupling from the wavy surface. 90% less rolling and heeling.
220 square meters of living space in a 78 foot yacht
220 square metres of solar surface with an attractive design
100 square metres salon with 360° all-round view
Quality of life at superyacht level
High degree of automation through artificial intelligence
Unique redundancy of all important components
No less than a revolutionary vision is needed here. And a complete break with the tried and tested.
We can prove that our team was the first to realize that this unique hull principle has an enormous potential to optimize consumption by decoupling it from the energetic water surface. We have largely recognised and proven this potential through independent tests. We have thus set out to create not only the desired economic success for the company, but also great added value for society and ultimately for the environment.
Our new yacht is not only trend-setting in terms of solar energy generation and design. In addition, two aspects have been taken into account that were previously perceived as unpleasant on board: strong waves and high temperatures.
The innovative solar yacht glides almost silently and does not sway - even over metre-high waves. As the hull technology is based on the SWATH (Small Waterplane Area Twin Hull) design principle known since 1938, it was previously reserved for special ships only: The ship is supported by two torpedo-shaped buoyancy bodies beneath the water surface. This achieves a physical wave decoupling which reduces the rolling and heeling of the yacht by up to 90 percent. The ship lies still in the water, even in strong waves, and the annoying swinging is thus over. But SolarImpact has recognized that this principle offers another invaluable advantage: Energy consumption is significantly reduced. All systems on board use the sun as a primary energy source. The electric drive is not only environmentally friendly, but also extremely quiet.
The solar yacht is energetically self-sufficient and with a top speed of 18 knots also fast. The reason for this is the selection of the technical components, which together enable a high overall efficiency of the yacht and are optimally controlled by the use of artificial intelligence (AI). All important systems are highly automated, so that the yacht can be manoeuvred by only one person.
The 78-foot yacht offers 220 square metres of luxuriously and functionally designed living space on three levels and a wide range of design options in terms of interior architecture and modern lighting, air-conditioning and sound solutions. The primary energy required for this is also supplied by a total of 220 square metres of solar area, with all important components designed redundantly. A range extender additionally guarantees the comprehensive operational safety of the yacht even under unfavourable weather conditions, such as prolonged cloud cover.
The process that uses this hull shape to minimise vertical movements in sea conditions is similar to that of semi-submersibles (construction of oil rigs). The wave motion, which is strongest at the water surface, decreases with increasing depth. The desired effect of this design is a drastic minimization of the heeling and rolling angles due to a significantly smaller waterline area (compared, for example, with a catamaran of the same size). This means that the ship offers the wave less surface area for attack. Actively controlled fins stabilize the yacht during movement. If the underwater hull is not visible, our Swath yacht can easily be confused with a catamaran. But our technological advantage lies in the detail and therefore you have to take a close look at the hull.
The big advantage of the Swath ships is that they lie very calm in the water even in strong waves. This can, for example, prevent people on board from getting seasick.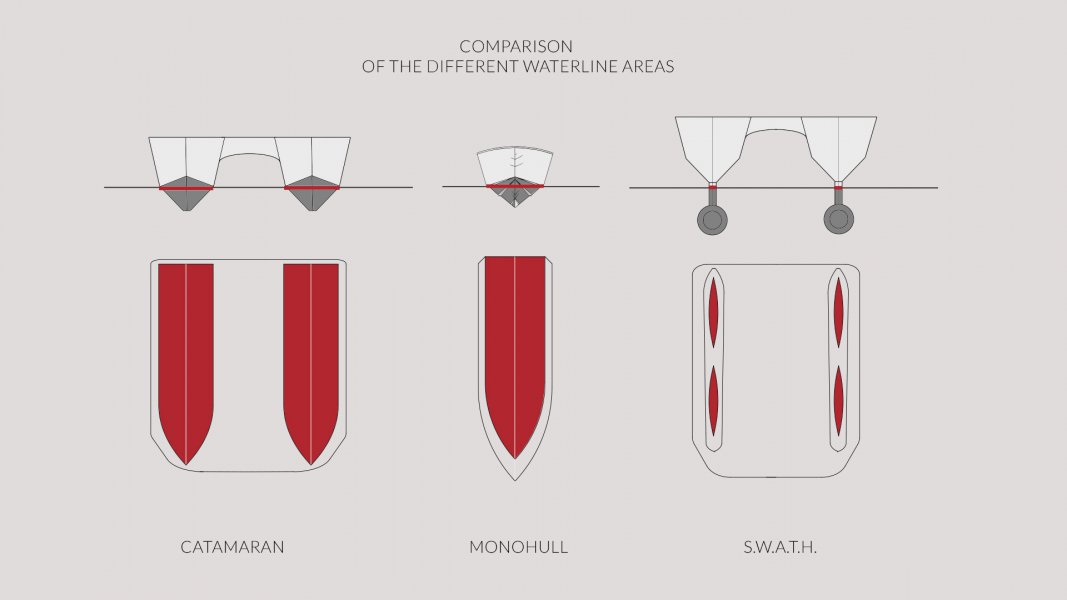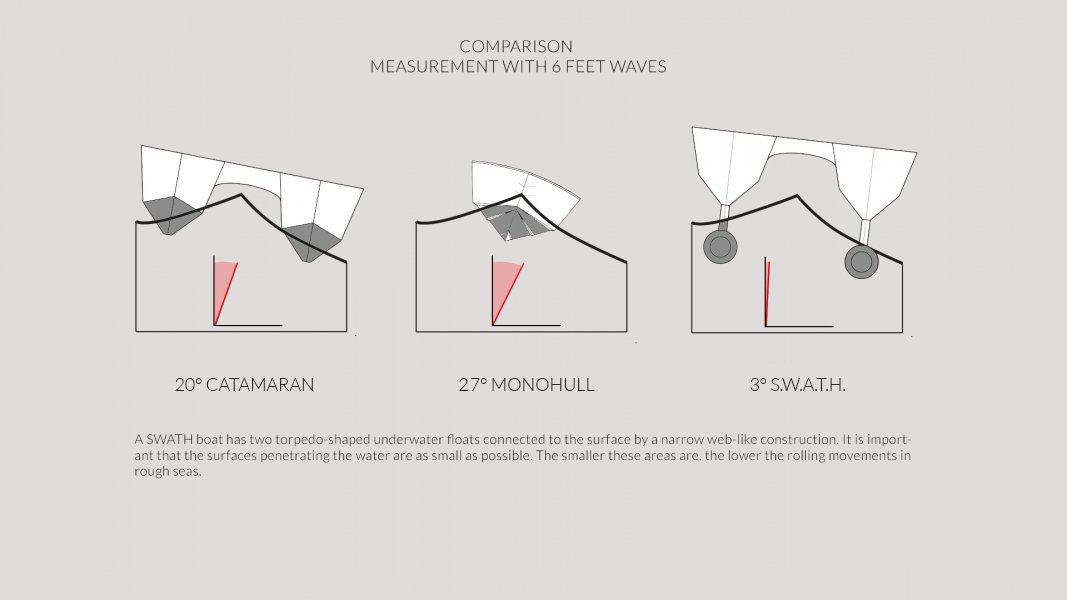 Solar - The advantages
The electric drive is characterized by a long service life, low maintenance, minimal vibrations, quiet running and no exhaust emissions. With the SolarImpact yacht a luxurious life on the water without fossil fuels is also possible. Solar power plants, roof-mounted photovoltaics, solar electric vehicles, even solar airplanes - all this is possible. In 2010 we saw the debut of the first solar-powered boat to travel around the world. From this example of maritime electric mobility, our resulting ship is now ready for series production. The technologies are getting better every day and now is the time to take the next step into the future of yacht building and to make the luxury of living on water possible through environmentally friendly energy.
The Energy storage
In addition, the energy storage can be discharged 100 percent without damage, so that the entire energy is consumed. The energy storage device is designed to offer the best possible security. Despite its watertightness, there is an Energy Unit Management System (EMS) that monitors and controls a number of key parameters at cell level. Fault detection and reporting, charge and discharge management.
The Solarimpact yacht is equipped with two liquid-cooled brushless permanent magnet electric motors. These electric motors generate a very high torque /2 x 5300 Nm/ over the entire speed range. This means that a high output torque is available at very low speeds and a high power output at higher speeds. This makes manoeuvring at low speeds much easier and more precise and increases dynamics at high speeds. The motors can be operated in both forward and reverse directions. Fast switching between these modes allows the use of a joystick control. Perfect for docking and slow manoeuvring.
Navigation with the Yachtview 360° system from a helicopter perspective
The System is the world's first camera system for yachts from 15 metres to 100 metres in length and more that provides a seamless 360° panoramic view of a yacht from the perspective of a helicopter in real time. Even under the most difficult conditions when mooring, anchoring, maneuvering in port or in narrow sea passages with high ship traffic, skippers can concentrate on the essentials and retain full control of the yacht. Every millimetre of boat movement is tracked in real time to avoid collisions, unforeseen events or wrong decisions. Thanks to the good effect of the residual light amplification of the cameras, you also have everything in view in the evening and at night. Yachtview 360° marks the beginning of a new era in the yacht industry!